Back to all posts
Posted on
Week at a Glance September 23-27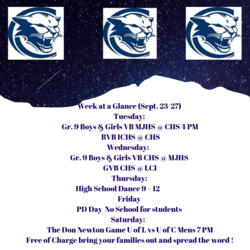 Week at a Glance (Sept. 23-27)
"When one door of happiness closes, another opens; but often we look so long at the closed door that we do not see the one which has been opened for us."-Helen Keller
Tuesday:
Gr. 9 Boys & Girls VB MJHS @ CHS 4 PM
BVB ICHS @ CHS
Wednesday:
DEAR: Drop Everything and Read (2:25 – 2:40 before dismissing to FLEX)
 Gr. 9 Boys & Girls VB CHS @ MJHS
 GVB CHS @ LCI
Thursday:
High School Dance 9 – 12 AM
Friday:
                         PD Day NO SCHOOL FOR STUDENTS
Saturday:
 The Don Newton Game U of L vs U of C Mens Baskeball 7 PM
  Free of Charge bring your families out and spread the word – we want a packed house to honor Don and his former teammates!