Back to all posts
Posted on
Week at a Glance Dec 16 - 20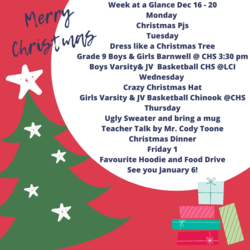 Week at a Glance (Dec. 16 - 20)
"Gifts of time and love are surely the basic ingredients of a truly merry Christmas." ―Peg Bracken
Monday:
Christmas PJs
Tuesday:
Dress like a Christmas Tree 
Gr. 9 Boys /Girls Basketball Barnwell @ CHS 3:30 PM
Boys Varsity & JV Basketball CHS @ LCI
Wednesday:
Crazy Christmas Hat
COUGAR CUB CAR RALLY
Girls Varsity & JV Basketball Chinook @ CHS
Thursday:
Ugly Christmas Sweater & bring your mug
School Wide Christmas Dinner and Teacher Ted Talk (Cody Toone) 
Friday 1:
Wear your favourite hoodie and food drive
Hope you all have a safe and Merry Christmas!
See you again on Monday January 6!