Back to all posts
Posted on
THE DON NEWTON GAME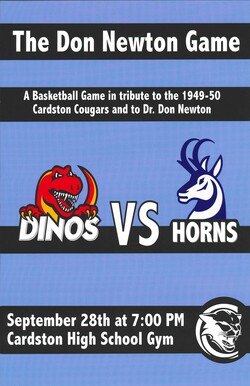 Cardston High School is excited to host, on September 28, @ 7pm, The Don Newton Game between the University of Calgary Mens Basketball team and the University of Lethbridge.
Many of you may be wondering who is Don Newton and why an Exhibition Game between U of C and U of L being played in Cardston? Don Newton was a former star basketball player for the Cardston Cougars. He played on the first official Provincial Basketball Championship team in 1949-50. Don went on to play basketball for the University of Alberta Golden Bears. From there he went on to coach high school basketball at Western High School and Sir Winston both in Calgary. He then coached the University of Calgary men's basketball team for many years. Before passing away this last summer he wanted this event to pay tribute to his former high school teammates and to the University of Calgary where he is donating a substantial amount of money to their scholarship program.
Don's Cardston High School team included: Coach:Bill Hansen, Kay Crabtree, Veryle Leavitt, Morgan Beazer, Ben Laidlaw, Dwayne Lee, Butch Sloan, Doug Steed, Ted Anderson, and David Low. Many of these men have passed away but a few will be in attendance and will be honoured this night. Admission is free so come out and support the first Provincial High School Basketball team and enjoy a great University Basketball game between U of C and U of L.