Back to all posts
Posted on
Principal's Message Christmas 2019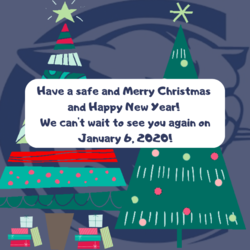 As we approach this Holiday season I hope you all know and understand how much we enjoy teaching, interacting, and learning with your student.
My wish is that our students have a, safe, and merry Christmas break. That they will get lost in a book, eat lots of food, stay up late, sleep in and enjoy all the wonder that the holiday can bring.
When we return to school on January 6, 2020, there will be only 2 weeks left of regular classes, the last day of class will be January 20, before we head into finals.
I would strongly encourage all of us to have conversations with students around the following topics this Christmas break.
    How could we get our grades up?
    Are all our assignments in?
    How have we been using our Flex time at school? Could we be using it more productively?
    About the new network changes, which will limit student wifi access to before school, during lunch and after school until 10 pm, how will this affect student learning?
    Talk about the Colin Karchner presentation, what do you remember? Have you tried the Colin Challenge?
Once again, I hope that your holidays are filled with love, laughter, and lazing about a Christmas tree.
Sincerely,
Ken McMurray
Principal Cardston High School