Back to all posts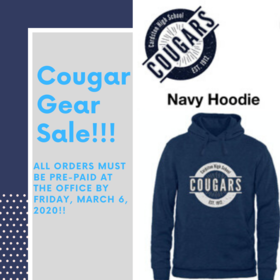 HEY COUGAR FANS!!! IT'S TIME TO GET YOUR COUGAR GEAR!!!
1. We have new Cougar Gear
2. Deadline to order is Friday, March 6, 2020
3. Items must be paid for in full by contacting Lorena Phillips at CHS office.
4. Some items are in stock and can be picked up at the time of payment.
5. Men's sizes only.
JUST CLICK ON LINK TO SEE THE AWESOME OPTIONS!!!