Back to all posts
Posted on
Congratulations on your Retirement, Mr. Sloan!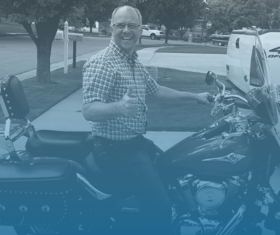 "Retirement only means that it is time for a new adventure" - Paul Sloan.
Cardston High School and Westwind School Division would like to recognize and thank Mr. Paul Sloan for his contributions to students over the past 33 years and wish him all the best in his retirement.
Mr. Sloan began his teaching career in Japan, which he describes as a great experience. After a year in Japan, he returned to Alberta and started his career with Westwind in Del Bonita, living in a teacherage and preparing for 18 different classes each week! After two years in Del Bonita, Mr. Sloan moved into a position at CHS where he taught various courses, including CALM, social studies, math, science, computers, and eventually all the chemistry at the high school, which he thoroughly enjoyed.
FUN FACT: Mr. Sloan is the original member of the #TeamWestwind tech team and was instrumental in implementing computer technology throughout Westwind School Division. He handled all the technical hardware for the division for several years by himself, including Powerschool, until, eventually, the division hired additional employees to assist with this massive undertaking, allowing Mr. Sloan to return to his classroom at CHS.
Mr. Sloan says one of the most enjoyable times in his career was when he had the opportunity to teach his own children. He also recalls that school trips with students and staff were some of his most memorable experiences and has wonderful memories of enjoying fascinating places, history and food with great students and staff. One of Paul's favourite quotes is, "the world is a book and those who do not travel read only one page."
Speaking of Mr. Sloan, CHS Principal Ken McMurray says that he has never met a person so gifted in the ability to figure out how things work and become an expert in that particular thing. "Paul's curiosity is admirable and has been a model for all of his many students over the years," he says.
Mr. Sloan has spent countless hours outside of the classroom videoing ball games, DJing dances, organizing ski trips, putting together the yearbook, taking pictures, coaching and just making the high school a great place for everyone. "To say Paul will be missed at CHS is an understatement," says Principal McMurray.
Congratulations on your retirement, Mr. Sloan. CHS won't be the same without you!