Back to all posts
Posted on
Congratulations on your Retirement, Mr. Roe!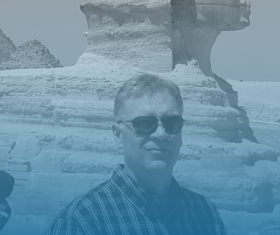 Cardston High School and Westwind School Division would like to recognize and thank Mr. Randy Roe for his contributions to students over the past 35 years and wish him all the best in his retirement.
Here is Mr. Roe's on thoughts on his career:
"I began my journey into teaching thirty-five and a half years ago in Brooks, Alberta. I applied for the job, and when they granted me an interview, I took my wife Ivana with me thinking she would stay in the car or front office during my interview. To my surprise, the superintendent invited her into the interview and all but a couple of questions were directed to her. They asked her about my weakness, my strengths, my personal habits and why she thought I'd be a good teacher. They offered "her" the job, and our 14 by 70 mobile home was on its way to Brooks the next week.
Brooks was wonderful, but it wasn't home, and a year and a half later, a job opened up in Cardston. Ivana and the children were in Belgium visiting family when I applied for and was offered a job at the Cardston High School. So without a word to her, I moved our mobile home back to the farm. The expression on her face when she saw our little home back home was beyond priceless, and so began the most extraordinary adventure I could ever have imagined.
There is no place I'd rather be than with students, be it in a classroom on a sports court or field or exploring the world. I have taught physics, chemistry, biology, French and Spanish and coached football, volleyball and basketball. I have also spent many hours helping with the parent council and student council and supervising the first culinary arts program.
I truly believe that some of the best learning experiences and relationships take place as teachers and students explore the world together. They say, "all who wander are not lost" and I have been wandering for thirty-four years with students from Cardston High School. We have hiked the Inca trail, sailed the Nile, explored the Amazon, ate pastries in Paris, sang hymns on Mount Sinai, played with elephants in Thailand, ziplined in Costa Rica, shot machine guns in Vietnam, sail off Vancouver Island, watched a bullfight in Spain, floated across the Egyptian desert in hot air balloons, felt the mist from Niagara Falls in a cable car, ate gelato in Rome, swam with the dolphins in Indonesia, visited with Anne of Green Gables and best of all karaoked until we were booed off the stage every chance we'd get.
Sports and school trips have been such a good part of my life as a teacher but even so my best and fondest memories of teaching come from all the goofy, wonderful things that happen everyday in my classroom; kissing trumpet players, bocce ball with the seniors, garbage free throws to get out of verb days, culture days and snacks from the fridge.
My family and my time with students have made my life richer and more exciting than I would have ever dreamt possible all those years ago in that little back office interview in Brooks.
A thought that inspires me:
The master in the art of living makes little distinction between his work and his play, his labor and his leisure, his mind and his body, his education and his recreation, his love and his religion. He hardly knows which is which. He simply pursues his vision of excellence at whatever he does, leaving others to decide whether he is working or playing. To him, he is always doing both.
Since retiring, I have completed my Driver Examiner license, so remember road rage is never the solution and don't forget to shoulder check!"
Congratulations on your retirement, Mr. Roe! You will be missed by students and staff at CHS!