Back to all posts
Posted on
4A Provincials Information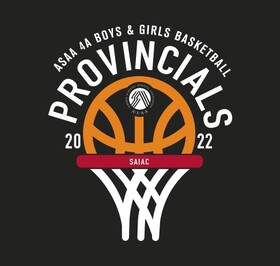 4A Girls and Boys Provincials Hosted by SAIAC Schools
The 4A Provincial Basketball Championship Tournament begins this week. Games will run from Thursday, March 17, 2022 to Saturday, March 19, 2022.
Games will be hosted by various schools in the Southern Alberta Interscholastic Administrative Council (SAIAC). 
Tournament passes will be available at the door. Re-entry with a tournament pass requires a stamp as well as your pass.
Adult Pass $20
Students Pass (K-12) $15
Children 5 and under are free
If you do not want a tournament pass, you can also pay at the gate for a single game. 
Adults $10
Students $7
Children 5 and under are free
Buying a pass does not guarantee a seat. 
You can find the draws for both boys and girls here: 4A Basketball Provincial Championship Draws. There is a tab at the bottom of the page to switch between the boys and girls draws.
All games will be live streamed through the ASAA YouTube Channel.
You can click here for the 4A Provincial Championship Tournament Program.