Grad Info 2021
Graduation Ceremony and Scholarship Program Link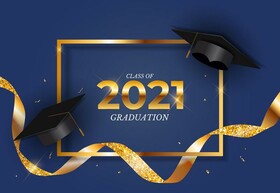 Please click the link below to view the graduation ceremony and online scholarship program. 
Ceremony begins at 6:00pm 
Scholarship program begins at 9:00pm
Grad Fees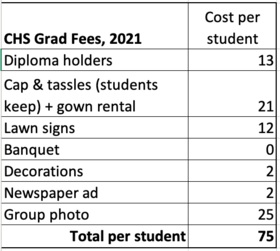 In 2021, we are not expecting to be able to do a banquet and dance, so the fees are reduced compared to years past. We received a great deal of positive feedback about the lawn signs from last year, so we are adding those into the costs. 
 We are planning on a group photo in graduation gowns, with social distancing in place. If it turns out the group photo is not possible due to restrictons, we will subtract/refund that cost. The group photo includes a copy of the group shot + a copy of walking across the stage. 
Please see the chart for breakdown of costs. Fees can be paid in the office in person or online to chsfees@westwind.ab.ca 
Please put your student's name and "grad fees" in the etransfer memo. 
Grad Info- January 27, 2021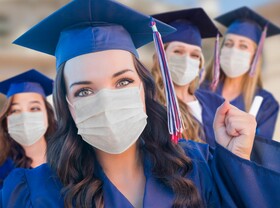 Hello students and parents,
We understand that you have been eagerly anticipating graduation information. Here are the basics. Please check back for updated information as it becomes available. 
CHS Admin & Grad Committee
Graduation Date: June 25, 2021 @ 6pm
Format
Grad Plan if we stay in phase 1 of government restrictions
Students will come to the school at 10am in their caps and gowns for a practice walk through and group photo. This will be followed by BBQ with the staff. The graduation ceremony will take place in a similar format to last year. This will include graduates walking the stage and receiving their diploma with an audience of a limited number of family. Students will have the choice to wear formal attire or their graduation cap and gown. Caps and gowns will be made available for rental to any graduate regardless of their choice of clothing on graduation night. The graduation program and awards cermonies will be held online. 
Grad plan if we move to phase 2
There will be a graduation ceremony in the gym with some modifications. Masking and physical distancing will be required, but a maximum of two parents/family members can attend. The ceremony will be shortened and the awards portion of the ceremony can be viewed online at 9pm on the night of June 25th. 
Grad Pictures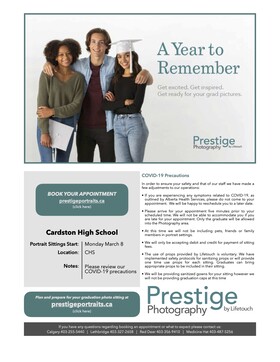 Grad photos will be March 8-12th. 
Please click HERE to be directed to the booking link online. Please type Alberta when it requests province, and Cardston when it requests city. 
Graduation Rings/Jewelry

High school graduation is an important milestone and some students like to celebrate with a school ring, necklace or bracelet that commemorates their high school achievements and memories. 
Jostens is offering a special discount if you order in February. You will receive $50 off your graduation jewelry purchase when you use the code FEBRUARY50CAD. 
Order at www.josten.com. You can also browse the catologue in the office. There are sizing rings in the office as well to help you with your ordering.